QUBA CAFFE Coffee Beans BIO Peru 100% Arabica - 250g
The highest quality Arabica beans are obtained from organic, certified crops in the Rodriguez de Mendoza region, Peru. Flavors of caramel, vanilla, milk chocolate with fruity notes, with a delicate aroma of herbs, complemented by a moderate acidity.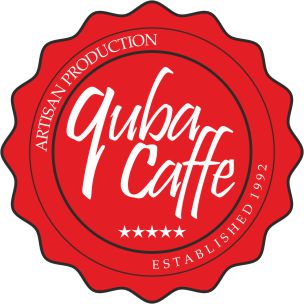 Easy return of products within

14

days from the date of purchase without giving reasons
Peru Grade 1 Organic - this coffee comes from small family crops based around cooperatives in northern Peru in the Amazonas, Cajamarca and Huabal regions.
These are several hundred plantations with a size of no more than 10 hectares, thanks to which local growers can take care of their farms with special care. Coffee is wet processed (washed), comes from organic crops where no pesticides or artificial fertilizers are used, obtaining a completely natural product. The highest quality is also ensured by manual harvesting of coffee beans and traditional processing methods without excessive use of mechanical equipment.
It is perfect as a delicate coffee for the afternoon. 100% Arabica, its characteristic feature is the low caffeine content. This coffee can be successfully brewed in the espresso, automatic and overflow coffee machine, as well as in the french press or in the traditional way.
Perfect in aromatic espressos, excellent in black coffees, as well as in milk coffees.
The perfect composition for people who care about a healthy lifestyle, who value organic products without artificial additives in the process of cultivation. 
Cup profile: noticeable flavors of caramel, vanilla, milk chocolate broken with fruity notes, with a delicate aroma of herbs, complemented by a moderate, pleasant acidity. The coffee has a solid body and natural sweetness.
For the love of coffee, Quba Caffe has been roasting beans for almost ten years. In the process of creating unique blends, we use the knowledge and experience at the stage of selecting the raw beans. We roast the carefully selected coffee origins in a traditional roasting machine. The bronze medalist of the Polish Roasting Championship 2020 is responsible for the quality of our coffees. We strive to ensure that every customer can find something interesting and tempting in our portfolio - from perfect espresso blends to delicious origins profiled for filter brewing or alternative methods.
Available variants: 250g / 1000g
Is Peru coffee for me?
Yes, if:
You prefer coffee with a strong fruity flavor while maintaining moderate acidity

Your domain is testing new flavors and aromas

You are a South American coffee enthusiast

You lead a healthy lifestyle

Organic products dominate your kitchen
Need help choosing a coffee? Contact us - our advisers will help you choose your new favorite coffee! ☕
You don't have a grinder? In the comments to the order, write how you brew your coffee - we will grind it especially for you, taking into account the brewing method.
Coffee roaster by country