Kawa ziarnista BIO Peru 100% Arabica z palarni Quba Caffe - 1 kg
Najwyższej jakości ziarna Arabiki, pochodzące z organicznych, certyfikowanych upraw z regionu Rodriguez de Mendoza w Peru. Smaki karmelu, wanilii, mlecznej czekolady z nutami owocowymi, z delikatnym aromatem ziół, uzupełniony umiarkowaną, kwasowością.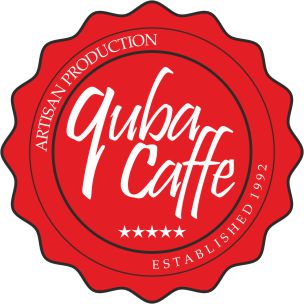 Easy return of products within

14

days from the date of purchase without giving reasons
Peru Grade 1 Organic pochodzi z małych rodzinnych upraw skupionych wokół kooperatyw na północy Peru z regionów Amazonas, Cajamarca czy Huabal.
To kilkaset plantacji o rozmiarach nie większych niż 10 hektarów, dzięki czemu lokalni plantatorzy mogą ze szczególną troską zadbać o swoje uprawy. Kawa jest poddawana obróbce na mokro (myta), pochodzi z organicznych upraw na których nie używa się pestycydów i nawozów sztucznych uzyskując w pełni naturalny produkt. Najwyższą jakość zapewnia również ręczny zbiór owoców kawowca oraz tradycyjne metody przetwarzania bez nadmiernego użycia maszyn.
Sprawdzi się jako delikatna kawa na popołudnie. 100% Arabica, dlatego jej cechą charakterystyczną jest niska zawartość kofeiny. Kawę z powodzeniem można zaparzać w ekspresie ciśnieniowym, automatycznym i przelewowym, a także we french pressie, kawiarce lub w sposób tradycyjny.
Idealna w aromatycznym espresso, doskonała w kawach czarnych, a także w kawach mlecznych.
Perfekcyjna kompozycja dla osób dbających o zdrowy tryb życia, ceniących organiczne produkty bez dodatków sztucznych w procesie upraw.  
Profil smakowy: wyczuwalne smaki karmelu, wanilii, mlecznej czekolady przełamane nutami owocowymi, z delikatnym aromatem ziół, uzupełnione umiarkowaną, przyjemną kwasowością. Kaw posiada solidne body oraz naturalną słodycz.
Z miłości do małej czarnej w Quba Caffe już od niemal dziesięciu lat wypala się kawę. W procesie tworzenia wyjątkowych mieszanek korzystamy z wiedzy i doświadczenia już na etapie wyboru surowca. Starannie wyselekcjonowane ziarno poddajemy procesowi palenia w tradycyjnym piecu bębnowym. Za jakość naszych kaw odpowiada brązowy medalista Mistrzostw Polski Roastingu 2020, czyli Paleniu Kawy. Staramy się, aby w naszym portfolio każdy klient znalazł coś dla siebie - od idealnych blendów pod espresso do aromatycznych Arabik do metod przelewowych.
Dostępne warianty: 250g / 1000g
Czy Peru jest kawą dla mnie?
Tak, jeśli:
Preferujesz kawy ze zdecydowanym owocowym smakiem przy zachowaniu umiarkowanej kwasowości

Twoją domeną jest testowanie nowych smaków i aromatów

Jesteś amatorem kaw z Ameryki Południowej

Prowadzisz zdrowy tryb życia

W twojej kuchni dominują produkty organiczne
Potrzebujesz pomocy w wyborze kawy? Skontaktuj się z nami  - nasi doradcy pomogą Ci wybrać twoją nową ulubioną kawę! ☕
Nie masz młynka? W uwagach do zamówienia napisz jak parzysz kawę - zmielimy ją specjalnie dla Ciebie, uwzględniając metodę parzenia.
wyczuwalne smaki karmelu, wanilii, mlecznej czekolady przełamane nutami owocowymi, z delikatnym aromatem ziół