QUBA CAFFE Coffee Beans BIO Peru Decaffeinated 100% Arabica - 250g
The highest quality Arabica beans are obtained from organic, certified crops in the Rodriguez de Mendoza region, Peru. Decaffeinated coffee by the Swiss Water Process method. A delicate hint of milk chocolate, palpable notes of malt, cereals and nuts.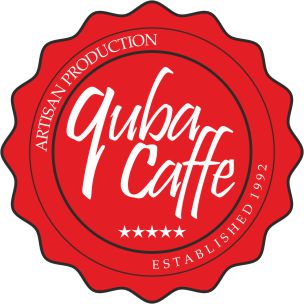 Easy return of products within

14

days from the date of purchase without giving reasons
Top-quality Arabica coffee beans from Peru.
Our decaf coffee is obtained by the Swiss Water Process method, in which coffee is free from chemical additives and processed using the purest water possible. That is why raw organic coffee can keep its organic certification. To remove caffeine from green beans they are soaked in high-quality water, which is a good solvent. The extracted solution is passed through carbon filters, eliminating the caffeine particles almost to zero. Decaffeinated coffee is not 100% caffeine free. Most decafs contain 2-3% of natural caffeine reamining, usually between 1 and 7 milligrams per cup.
The perfect composition for people who care about a healthy lifestyle, who value organic products without artificial additives in the process of cultivation.
Cup profile: a delicate hint of milk chocolate, palpable notes of malt, cereals and nuts.
For the love of coffee, Quba Caffe has been roasting beans for almost ten years. In the process of creating unique blends, we use the knowledge and experience at the stage of selecting the raw beans. We roast the carefully selected coffee origins in a traditional roasting machine. The bronze medalist of the Polish Roasting Championship 2020 is responsible for the quality of our coffees. We strive to ensure that every customer can find something interesting and tempting in our portfolio - from perfect espresso blends to delicious origins profiled for filter brewing or alternative methods.
Available variants: 250g
Is Peru decaffeinated for me?
Yes, if:
You are looking for a decaffeinated coffee which taste doesn't differ from the classic one

You are a South American coffee enthusiast

You lead a healthy lifestyle

Organic products dominate your kitchen
Need help choosing a coffee? Contact us - our advisers will help you choose your new favorite coffee! ☕
You don't have a grinder? In the comments to the order, write how you brew your coffee - we will grind it especially for you, taking into account the brewing method.
BIO Peru Decaf 100% Arabica
Coffee roaster by country