Bialetti Moka Express 3tz
Fashion coffee maker is a high quality product made by GAT, the world's leading manufacturer of coffee makers.
3tz model it used to brew 2 cups of espresso at a time (approx. 50ml each). The total capacity is 150ml.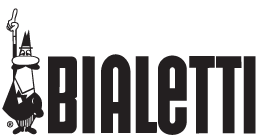 Easy return of products within

14

days from the date of purchase without giving reasons
Moka Express is the most classic model of the world leader among producers of coffee machines, Bialetti. It was this coffee machine in the thirties of the twentieth century that made the Italian producer famous. To this day, it is the most popular moka model in the world, as evidenced by over 200 million copies produced.

Model Bialetti Moka Express 3tz is used to simultaneously brew 3 cups of espresso (about 50ml each). The total capacity is 150ml.

To prepare a real Italian espresso, you only need a coffee machine, good coffee and a few minutes!

• Construction:

The aluminum-cast coffe impresses with its quality. The classic, unchanged for decades shape will be an original element of any kitchen. The handle and an additional plastic handle in black provide the convenience of carrying and serving the finished drink. Production takes place in Italy.

• Use:

Bialetti Moka Express can be used on gas and electric burners. The product should be positioned so that the handle is out of reach of the heat source.

The rake should be washed by hand without using detergents. Not suitable for washing in the dishwasher.

When choosing the size of a coffee machine, remember that the amount of coffee specified by the manufacturer should be prepared with each brewing.

• How does the moka work? The coffee machine consists of an upper container with a gasket, a filter and a lower container. Ground the coffee beans in the filter, pour water into the lower container below the level of the safety valve and combine all the elements together. We put the kettle on the stove and wait a few minutes. The hot water will move to the upper tank flowing through the milled grains. A delicious and aromatic espresso is ready!